Within the framework of Link-Technologies' cooperation with the municipality of Thessaloniki, a system for the management and monitoring of the Garbage collection fleet was implemented, focusing on the reduction of operating costs and the best possible service to the citizens. The system provides possibilities for monitoring daily journeys and operation of garbage collection vehicles.
Also, ultrasonic fuel meters were installed to control fuel supply and fuel consumption. In this way, the need for detailed fuel logging for the measurement of liters in the vehicle tank and the real-time measurement to be transmitted to the central computer of the Service, confirming the number of liters of fuel each vehicle receives in relation to the value of liter and total refueling costs.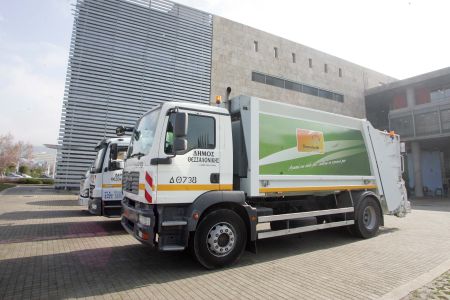 With this project the benefits for the municipality are as follows:
1. Optimization of waste collection and utilization routes and saving of fuel from the fewer kilometers of all vehicles
2. More efficient tracking & management of the collection service
3. Reduced vehicle maintenance costs
Accordingly, the benefits for citizens are the most efficient cleaning service provided by the Municipality, the provision of information on fuel supplies and fuel consumption in the vehicles of the Municipality – thereby enhancing the sense of transparency for the citizens – as well as the documented requirement for the level of cleanliness, per area of the Municipality.